Dishwasher Repair:
Fast, Reliable and Affordable Service
Dishwashers are a lifesaver in today's fast-paced world. They make cleaning dishes quick and effortless, saving you time and energy. However, just like any other home appliance, dishwashers can also face problems and breakdowns, leaving you with a pile of dirty dishes to wash by hand.
If you're facing such a situation, then worry no more. We Fix Appliance Repair can help you with our reliable and efficient dishwasher repair service.
When you choose We Fix Appliance Repair for your dishwasher repair needs, you can rest assured that you're getting the highest quality service possible. Our dishwasher repair experts are committed to providing excellent customer service, and we stand behind our work with a warranty on all repairs.
Common Dishwasher Problems We Fix
We've worked on scores of dishwashers in our day, and we've seen all sorts of problems come up. Some of the more common dishwasher repair problems we've seen include:
Dishwasher is not cleaning dishes properly: If your dishwasher is not cleaning your dishes properly, it could be due to a clogged spray arm, a faulty pump, or a malfunctioning detergent dispenser.
Dishwasher is leaking water: If your dishwasher is leaking water, it could be due to a damaged door seal, a clogged drain line, or a malfunctioning water inlet valve.
Dishwasher is making strange noises: If your dishwasher is making strange noises, it could be due to a faulty motor, a worn-out belt, or a loose or damaged part within the dishwasher.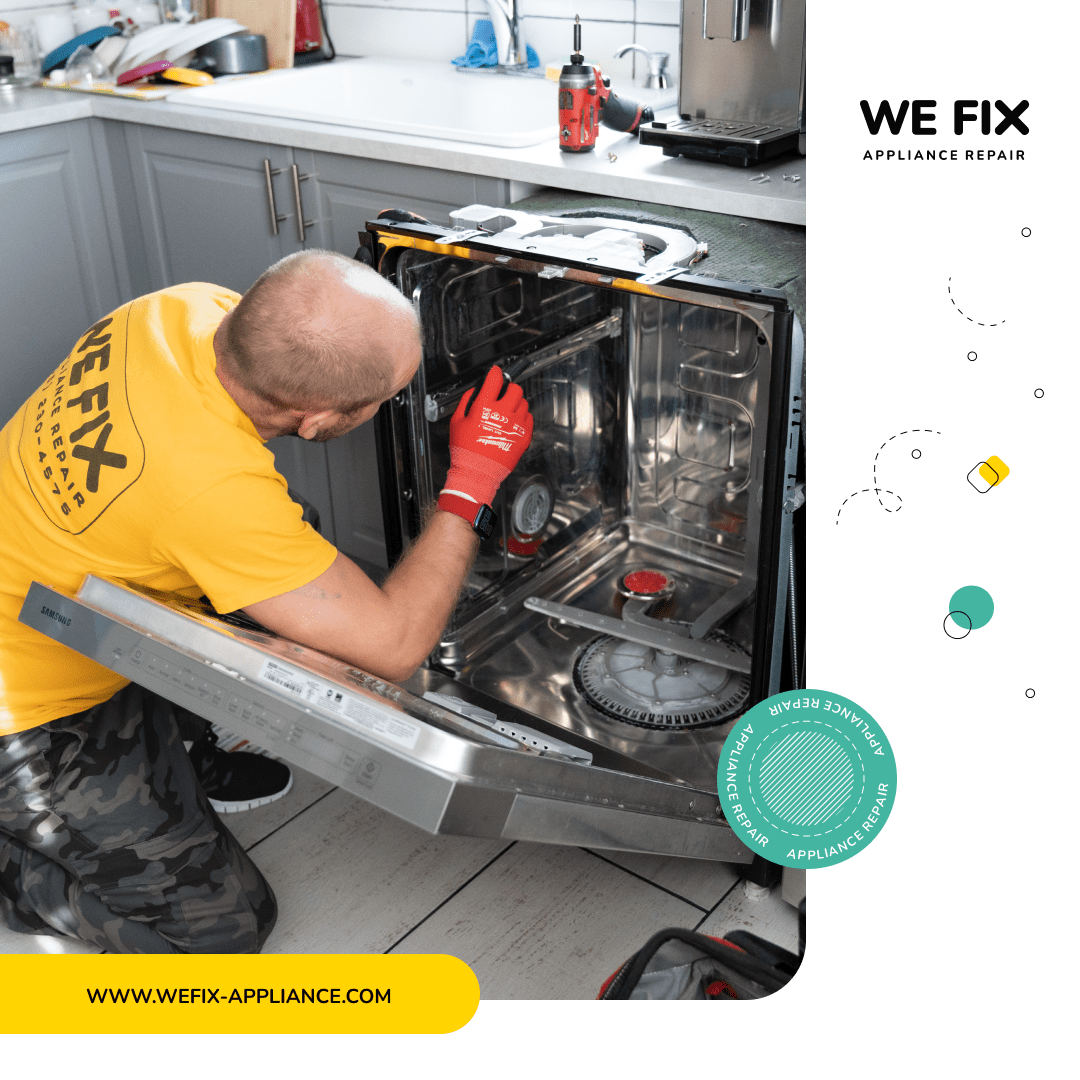 Dishwasher is not draining: If your dishwasher is not draining properly, it could be due to a clogged drain hose, a faulty drain pump, or a malfunctioning check valve.
Dishwasher is not turning on: If your dishwasher is not turning on, it could be due to a faulty door latch, a malfunctioning timer, or a damaged control board.
Dishwasher Brands We Repair
At We Fix Appliance Repair, we have experience repairing dishwashers from a wide variety of brands. Our expert technicians have the knowledge and skills to repair all makes and models of dishwashers, including but not limited to:
Whirlpool dishwasher repair
KitchenAid dishwasher repair
GE dishwasher repair
Maytag dishwasher repair
Bosch dishwasher repair
Samsung dishwasher repair
LG dishwasher repair
Frigidaire dishwasher repair
Viking dishwasher repair
Thermador dishwasher repair
Sub-Zero dishwasher repair
Professional Dishwasher Repair Experts
A broken dishwasher can be a nightmare, especially if you have a busy lifestyle. That's why you need a reliable dishwasher repair service that you can trust. At We Fix Appliance Repair, we understand the importance of having a functional dishwasher, and we're here to help you get it back up and running quickly.
We offer same-day service to our clients, so you don't have to wait for days to get your dishwasher repaired. Our affordable prices and warranty on repair work make us the go-to choice for dishwasher repair in your area. Contact We Fix Appliance Repair today to schedule your dishwasher repair service and get your appliance working like new again.
Why choose us
FULLY
INSURED
Our team is fully insured, licensed and highly trained to do comprehensive repairs
PROFESSIONAL TEAM
Our team of technicians are fully trained and certified experts in appliance repair
SAME-DAY REPAIR
Our team will make sure to get your appliance fixed as soon as possible
Frequently Asked Questions
What Does the Dishwasher Repair Service Include?
Our dishwasher repair service includes a full diagnostic of your dishwasher to determine the issue and the necessary repairs to get your dishwasher up and running again. We also include warranty on all parts and labor, so you can rest assured that your dishwasher is in good hands.
What Is the Price for Dishwasher Repair?
The cost of dishwasher repair will vary depending on the problem. However, we do offer a free diagnostic test so that you can get an accurate estimate of the repairs needed.
Is Repairing the Dishwasher Worth It?
Dishwashers are one of the most used appliances in the kitchen. If your dishwasher is less than five years old, it may be worth repairing. It can take many years for a dishwasher to show signs of heavy use, so while there may not be any telltale signs now, it could happen soon. The best way to find out is by asking our dishwasher repair technicians what they think during their inspection.
How Long Does It Take for a Dishwasher to Be Repaired?
The average dishwasher repair takes between one and two hours. However, this can vary depending on the severity of the issue and the make and model of your dishwasher. Our dishwasher repair team of expert technicians will be able to diagnose and repair your dishwasher quickly and efficiently.
What Causes Some Dishwasher Repairs to Be Expensive?
There are a few reasons why dishwasher repairs can be expensive. First, if the dishwasher is old, parts may need to be replaced, which can be costly. Faulty first-time repairs and poor maintenance can also lead to more expensive repairs down the road.
How Do I Know if My Dishwasher Needs Repair?
If your dishwasher isn't cleaning dishes like it used to, that's a good sign it needs repair. Other signs include water leaking from the dishwasher, strange noises coming from the dishwasher, and the dishwasher not turning on at all.
What Areas Do You Service for Dishwasher Repair Service?
WeFix Appliance Repair is a full-service dishwasher repair company. We offer in-home repair services in areas around Orlando, Tampa, Seminole, Sarasota, and more. Give us a call today to confirm your service area.