Microwave Repair:
Fast, Reliable and Affordable Service
Microwave ovens have become an essential kitchen appliance that makes our lives more comfortable and convenient by helping us prepare and heat food in a matter of minutes.
Despite your best efforts to maintain your microwave, it may still fail to function correctly, leading to discomfort and anxiety. In such cases, you may require the services of expert microwave repair technicians.

Don't worry; our team of professionals at We Fix Appliance Repair offers the best microwave repair service in the industry.
You can contact us at (727)855-8365 for immediate assistance.
At We Fix, we are dedicated to providing our customers with the highest quality of microwave repair services. We offer same-day microwave repair services, ensuring that you don't have to go without your microwave for long.
If your microwave is broken, call us right away at (727)855-8365, and we will come to your rescue.
Common Microwave Problems
We Fix
Microwave ovens can encounter a variety of issues, but our team of skilled technicians is well-equipped to handle them all. With years of experience and extensive training, we are experts in microwave appliance repair.
You can rely on us for any microwave repairs or maintenance needs you may have. Here are some of the most common problems we fix:
Touchpad not responding: Sometimes the touchpad on a microwave may stop working, making it difficult or impossible to use the device.
Unusual noise: If you hear unusual noises coming from your microwave, it could indicate a problem with the motor or other mechanical components.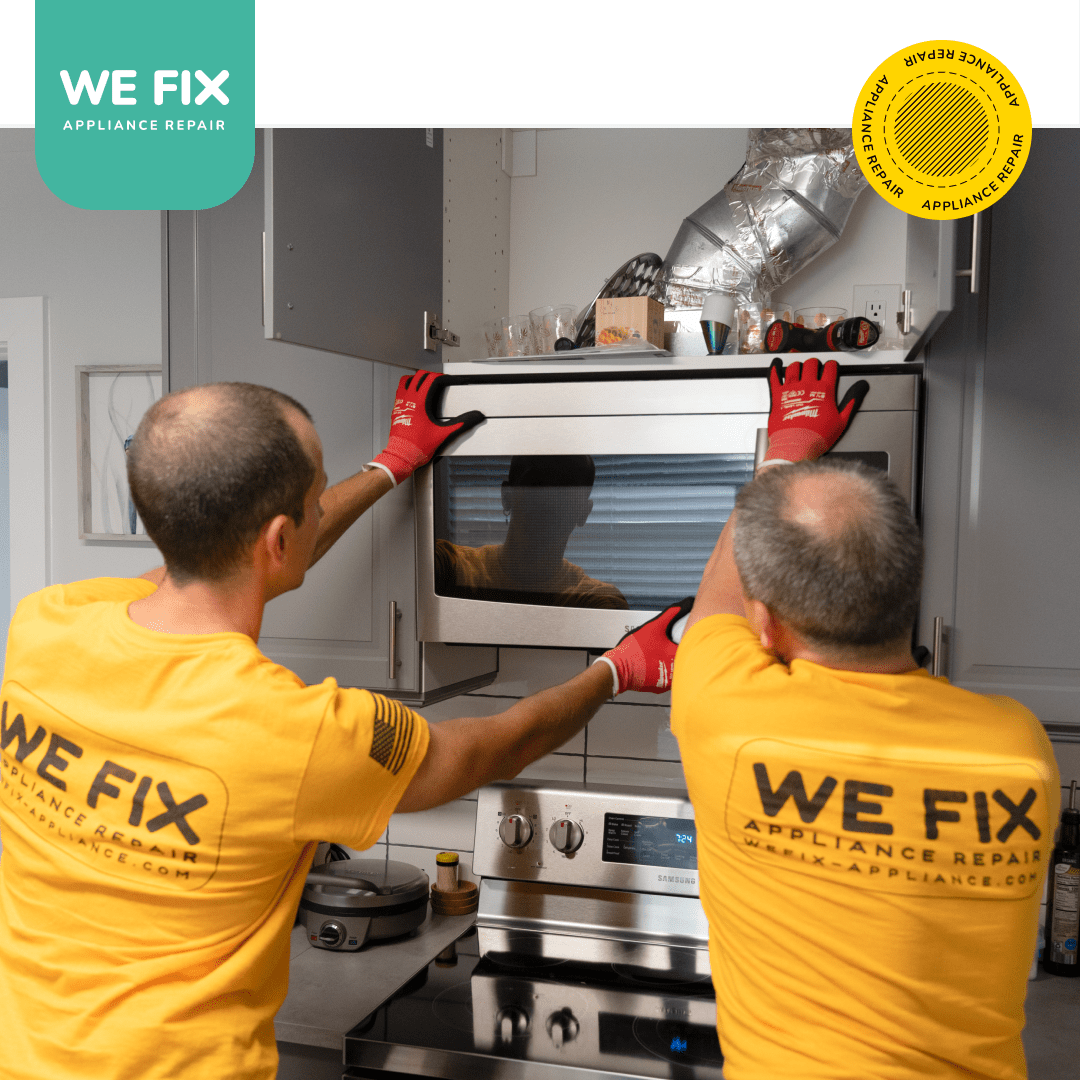 Microwave doesn't shut off: If your microwave doesn't turn off when you press the stop or cancel button, there could be an issue with the control panel or door switch.
No heat: When a microwave is turned on but fails to produce heat, there could be a problem with the magnetron, high voltage diode, or other electrical components.
Microwave won't turn on: If your microwave fails to turn on when you press the power button, there could be an issue with the electrical wiring or control board.
Door not closing properly: When the microwave door doesn't close properly, it can prevent the microwave from functioning correctly, which can be a safety hazard.
Door stuck closed: Sometimes the microwave door can become stuck closed, which can be frustrating and prevent you from accessing your food.
Microwave Brands We Repair
Our team of microwave repair technicians has all the necessary tools and skills to provide you with top-quality service. Regardless of the model of your microwave oven, we can fix any brand or model, whether it's an older machine or a brand-new model.
Our microwave repair technicians are experts in their field, and they have the experience and knowledge to diagnose and repair any problem that your microwave oven may have.
Amana microwave repair
Ge microwave repair
Frigidaire microwave repair
Bosch microwave repair
Whirlpool microwave repair
Samsung microwave repair
LG microwave repair
KitchenAid microwave repair
Maytag microwave repair
Kenmore microwave repair
Trusted Microwave Repair Experts 
If you are in need of a reliable and affordable microwave repair service, look no further than We Fix Appliance Repair. With years of experience repairing all makes and models of microwave ovens, our team of microwave repair experts is equipped to handle any problem you may encounter, from faulty wiring to broken buttons. Our expert technicians are here to help you out, and we guarantee to fix your appliance the first time around.
Don't let a broken microwave oven disrupt your daily routine. Contact us today to schedule your microwave repair appointment. You can easily book online or give us a call to speak with one of our friendly representatives.
Why choose us
FULLY
INSURED
Our team is fully insured, licensed and highly trained to do comprehensive repairs
PROFESSIONAL TEAM
Our team of technicians are fully trained and certified experts in appliance repair
SAME-DAY REPAIR
Our team will make sure to get your appliance fixed as soon as possible
Frequently Asked Questions
What is Included in Microwave Repair Service?
Microwave repair service includes diagnosing the problem, repairing or replacing parts, cleaning, and testing.
How Much Does it Cost to Repair a Microwave Oven?
The cost of repairing a microwave depends on the type of issue and the extent of the damage. At We Fix Appliance Repair, we offer competitive prices for our services and provide an estimate before starting any repairs.
What Types Of Microwaves Do You Repair?
We repair all types of microwaves, including countertop, over-the-range, built-in, and combination microwave ovens.
How Do I Know If I Need Microwave Repair Service?
If your microwave is not heating food properly, making strange noises, or displaying error codes, it may need to be repaired. Our experienced technicians can diagnose and fix the problem quickly and efficiently.
What Makes Microwave Repairs to be Expensive?
The cost of microwave repair depends on the materials and labor required to complete the repair. The costs are often high, not because of the technicalities of the issues, but because most parts of the appliance are usually very expensive.
Is it Worth Having a Microwave Oven Repaired?
If you have a basic model that costs about $60, replacement may be the best option. Expensive models, especially the mounted ones or those with special features, are worth repairing. Most of these high-end microwaves can cost up to $1,000, so repairing them will be way cheaper than replacement.
How Long Do Microwave Repairs Take?
Our microwave repair technicians are always on time and can repair your microwave even within a day, if not hours, depending on the nature and parts damaged. Our technician will give you an estimated timeframe when they provide you with the repair quote.
How Do I Schedule Microwave Repair Service?
You can schedule microwave repair service by contacting us via phone, email, or through our website. We offer flexible scheduling options to accommodate your busy schedule.