Refrigerator Repair:
Fast, Reliable and Affordable Service
Your refrigerator is an essential appliance that helps keep your food fresh. If it's not functioning correctly, you need professional refrigerator repair services. At We Fix Appliance Repair, we understand the importance of having a working refrigerator.
We have a team of highly experienced and qualified refrigerator repair technicians who can diagnose the cause of your refrigerator's problems and provide a lasting solution to prevent future issues from occurring.
We understand that a malfunctioning refrigerator can be a significant inconvenience, which is why we prioritize fast and efficient refrigerator repair service.
Our goal is to have your fridge up and running as soon as possible, with minimal disruption to your daily routine.
Common Refrigerator Repair Problems We Fix
Our refrigerator repair technicians are well-trained and licensed to repair all types of refrigerator problems. We specialize in fixing the most common refrigerator issues, including:
Refrigerator not cooling: This can be caused by a faulty compressor, condenser fan, or thermostat.
Refrigerator making strange noises: This could be due to a faulty fan motor, evaporator fan or condenser fan.
Refrigerator leaking water: This can be caused by a clogged defrost drain, a faulty water valve, or a damaged water line.
Refrigerator freezing food: This could be due to a malfunctioning thermostat, a damaged door gasket, or a faulty defrost timer.
Refrigerator not working at all: This could be due to a faulty compressor, thermostat, or control board.
Ice maker not making ice: This can be caused by a clogged water filter, a faulty water inlet valve or a malfunctioning ice maker motor.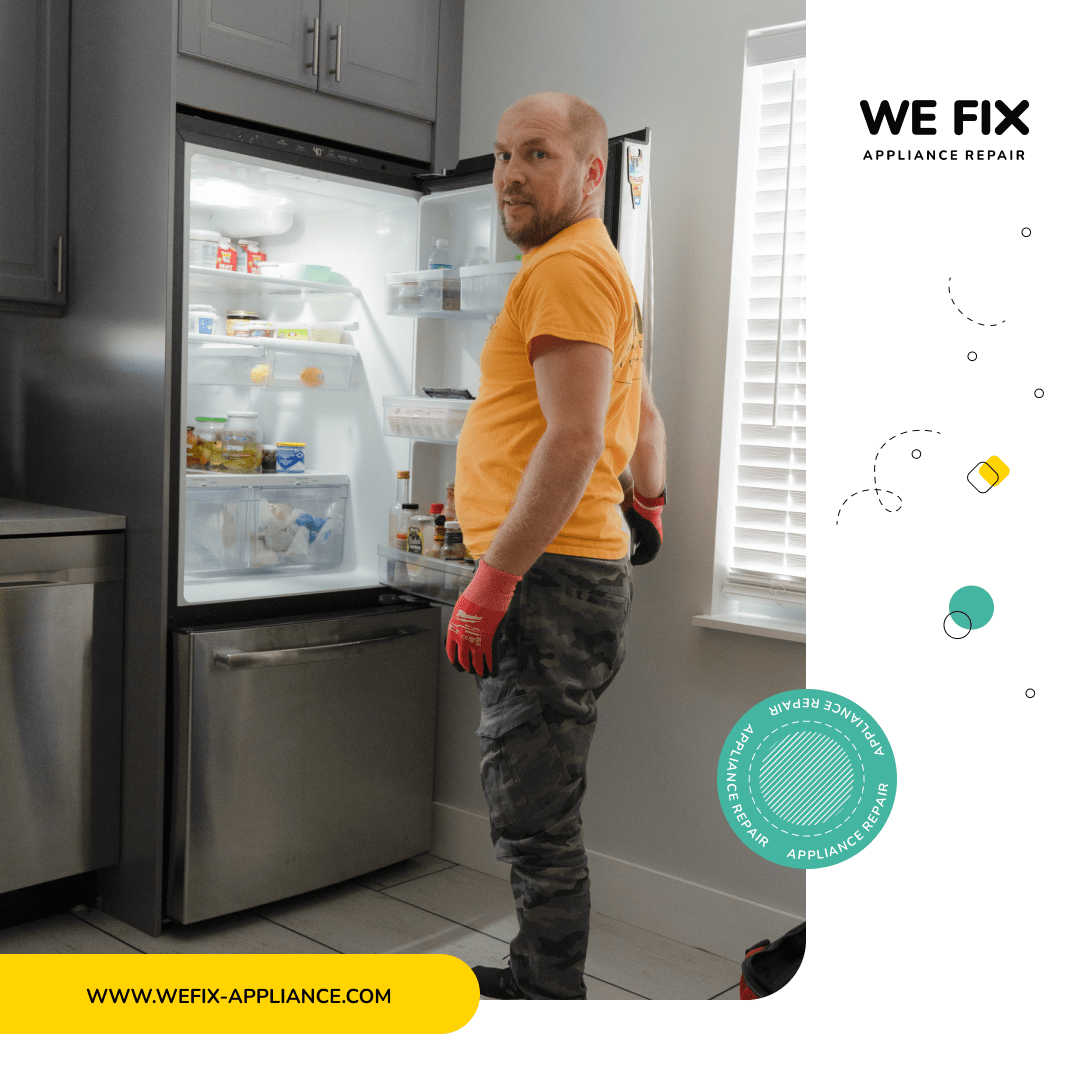 Refrigerator Brands We Repair
We Fix Appliance Repair offers refrigerator repair services for all brands, including:
Sub-Zero refrigerator repair
Thermador refrigerator repair
Viking refrigerator repair
Miele refrigerator repair
Jenn-Air refrigerator repair
LG refrigerator repair
Samsung refrigerator repair
& many more
Trusted Refrigerator Repair Experts
At We Fix Appliance Repair, we have a team of experienced technicians who have the skills and knowledge to diagnose and repair a wide range of refrigerator problems. Our refrigerator repair technicians will provide a detailed estimate before any work is done so you know exactly what to expect.
We are committed to providing excellent customer service and strive to ensure that our customers are completely satisfied with our work. We are always available to answer any questions or concerns you may have.
Contact us today to schedule a refrigerator repair your repair appointment.
Why choose us
FULLY
INSURED
Our team is fully insured, licensed and highly trained to do comprehensive repairs
PROFESSIONAL TEAM
Our team of technicians are fully trained and certified experts in appliance repair
SAME-DAY REPAIR
Our team will make sure to get your appliance fixed as soon as possible
Frequently Asked Questions
What Does the Refrigerator Repair Service Include?
There is a range of issues that can occur with your refrigerator, including leaking water, ice build-up, or an inability to stay cold. Because refrigerators can be quite complex as you must consider both their electrical components as well as their cooling systems, it's important to seek someone with professional experience to repair your fridge. At We Fix Appliance Repair, we offer same-day service by factory-trained refrigerator repair technicians and can provide a speedy diagnosis, as well as specialized parts delivered at half of the average time if they are needed.
What Is the Price For Fridge Repair?
While a fridge repair can cost anywhere from $100 to $1,000 in the most severe cases, these prices are small compared to the cost of a brand-new refrigerator, which can cost up to a whopping $12,000. We'll provide you with a fast and fair fridge repair, giving you an estimate of the costs immediately following the diagnosis, and we always provide a warranty for our fridge services.
What Causes Some Refrigerator Repairs To Be Expensive?
Depending on your refrigerator model and its age, it may be more difficult to access replacement parts. Additionally, some of the more difficult services, such as thermostats or coil replacements, can cost a bit more than simple solutions such as leak repairs or drip pan replacements.
Is Repairing My Refrigerator Worth It?
Yes. Considering the potential cost of a brand new refrigerator—upwards of $12,000—a simple repair instead of a replacement can save you thousands in the long run.
How Long Does It Take For a Fridge To Be Repaired?
We know how busy you are. That's why, with our advanced diagnostics knowledge, we're able to fix your refrigerator fast. Our refrigerator repair technicians always arrive on time within a two-hour appointment window, and in the rare case you need specialized replacement parts, we can get those delivered in half the time you'd usually receive them.
What Areas Do You Service For Refrigerator Repairs?
Having started in Seminole, Florida, we have been serving you right here in Pinellas County, Miami and Tampa Bay for over ten years! Contact us today for refrigerator repair service.