Washing Machine Repair:
Fast, Reliable and Affordable Service
As homeowners, we rely on our washing machines to keep our clothes clean and fresh. But when our trusty washing machines break down, it can be frustrating and stressful. That's where We Fix Appliance Repair comes in – our experienced team of professionals can help get your washing machine up and running again in no time.
We offer fast and reliable washing machine repair services to get your appliance backup and running in no time. Our team of experienced professionals can diagnose the problem quickly and offer a solution that fits your needs and budget.
Whether your washing machine is leaking, making strange noises, or failing to spin, our team of experienced professionals can diagnose the problem and offer a solution that fits your needs and budget. We use only high-quality replacement parts and stand behind our work with a 100% satisfaction guarantee.
Common Washer Repair Problems We Fix
The washer is not turning on – This could be due to a faulty power cord, a blown fuse, or a tripped circuit breaker.
The washer is not draining – This could be due to a clogged drain hose or pump, a broken lid switch, or a malfunctioning timer.
The washer is leaking water – This could be due to a damaged water inlet valve, a worn-out door boot seal, or a loose hose connection.
The washer is making strange noises – This could be due to a worn-out drum bearing, motor coupling, or transmission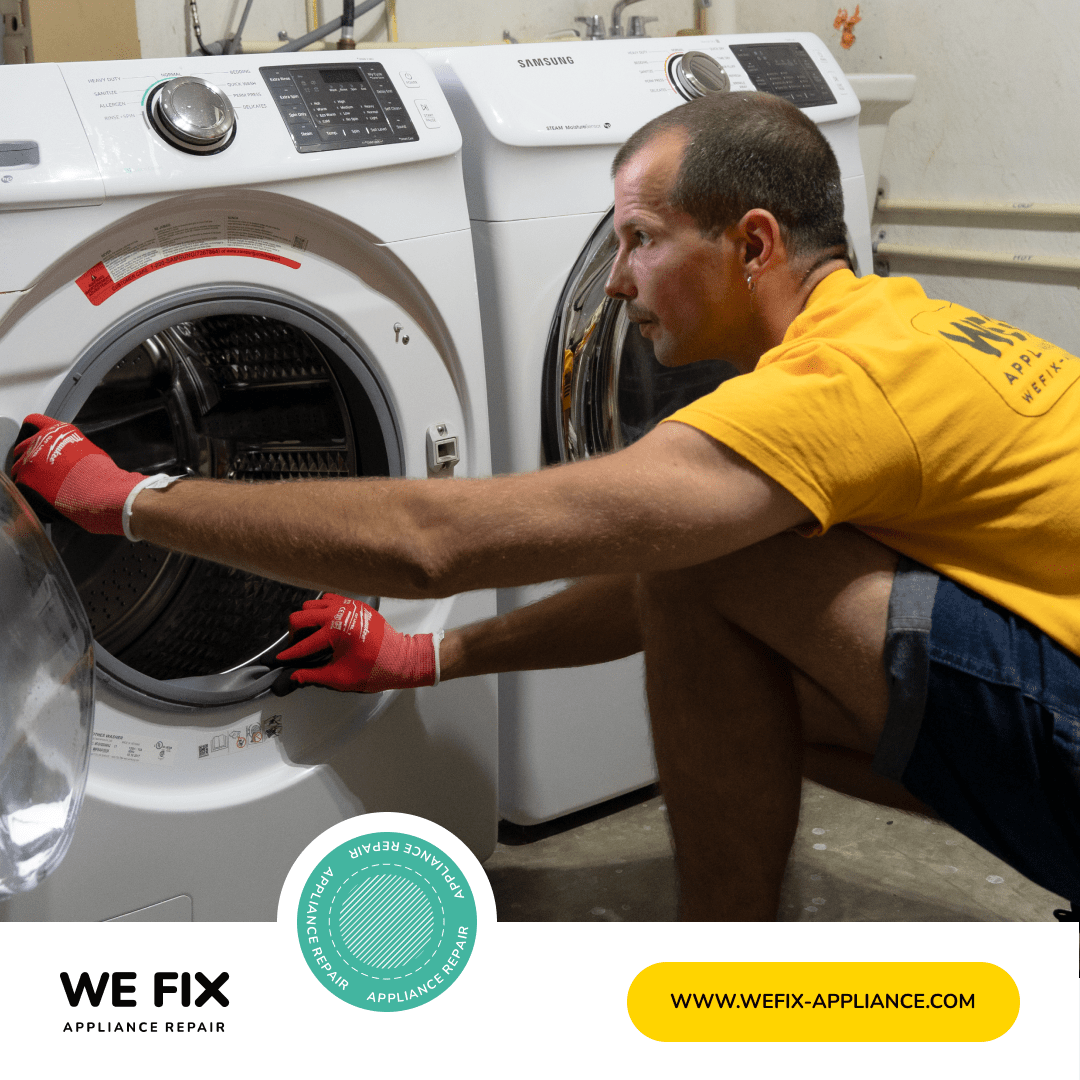 Washer Brands We Repair
We Fix offers washing machine repair services for all major brands, including:
GE washing machine repair 

Whirlpool washing machine repair

Kenmore washing machine repair

Maytag washing machine repair

Bosch washing machine repair

Samsung washing machine repair

LG washing machine repair

and More!
Professional Washer Repair Experts
If you're dealing with a malfunctioning washing machine, don't wait to get it repaired. Call in the experts at We Fix Appliance Repair for fast and reliable washing machine repair service you can count on. With our team of experienced professionals, affordable pricing, and 100% satisfaction guarantee, you can have peace of mind knowing that your washing machine is in good hands. Don't let a small problem turn into a bigger one – contact We Fix Appliance Repair today to schedule your washing machine repair appointment.
Why choose us
FULLY
INSURED
Our team is fully insured, licensed and highly trained to do comprehensive repairs
PROFESSIONAL TEAM
Our team of technicians are fully trained and certified experts in appliance repair
SAME-DAY REPAIR
Our team will make sure to get your appliance fixed as soon as possible
Frequently Asked Questions
What Does The Washing Machine Repair Service Include?
A washing machine repair service involves assessing the washing machine, accurately diagnosing the root problem, then provision of a long-lasting solution to the problem.
What Is The Price for Washer Repair?
The total price of repairing a washer adds up to $150-$400. The lowest price to fix minor issues like a faulty lid switch is $85-inclusive of spare parts and labor. Alternately, the highest price for repairing a washer, for instance, replacing an agitator, could surpass $575 inclusive of labor and spare parts.
Is Repairing The Washing Machine Worth It?
Repairing your washing machine is recommended when: 1. The price of repairing the washing machine is 50% less than the machine's buying price. 2. You know how to fix some common issues yourself after consulting an expert on the issue. 3. The washing machine is relatively new, and the spare parts are easy to come by. 4. Repairing a washing machine is recommended when or if you lack enough time to go through the whole process of replacing one-repairing a machine is faster compared to replacing one. 5. When the washing machine is of sentimental value, repairing it allows you to hold on to your treasured memories for much longer.
Do You Offer Washing Machine Repair Warranties?
Yes, WeFix Appliance Repair offers a warranty on all labor for 90 days; up to 12 months on installed parts.
How Long Does It Take for A Washing Machine to Be Repaired?
The time to repair a washer depends on a few factors, despite most appliance repair services advertising the same-day service. These factors include: 1. Availability of the parts to be replaced 2. The distance the staff members of the repair service will take to reach your home for the service. 3. The intensity of the issue your washing machine has.
What Causes Some Washer Repairs To Be Expensive?
The washing machine's model, how old the washing machine is, and what part of the washing machine is broken all determine the cost of repairing. For instance, if an old washing machine is faulty, getting the parts to replace the broken part is costly since the spare parts for that particular machine aren't readily available.