Oven Repair:
Fast, Reliable and Affordable Service
If your oven is causing you problems, it can be a significant inconvenience and even lead to frustration. There's nothing worse than preparing a delicious meal, only to find it's burnt to a crisp or undercooked due to a faulty oven. Don't let a faulty oven ruin your day or your family's mealtime.
Contact We Fix Appliance Repair at (727)855-8365 today for exceptional oven repair services that are fast, reliable, and affordable.
If you require oven repair service, contact We Fix and our team of oven repair experts will quickly and effectively handle the issue for you.
We stay up-to-date with the latest technologies and new high-tech models to ensure we can provide you with the best possible service. Book your oven repair service today!
Common Gas or Electric Oven Problems We Fix:
There are several reasons why an oven may stop heating properly. It could be faulty wiring, a disconnected element, or any number of other issues — some easy to fix, others much more complicated.
Here are just a few of the symptoms that indicate it's time to get your oven repaired:
little to no heat when baking
the element will not heat
the timer will not advance
the gas igniter glows but will not light
little to no heat when broiling
the oven is too hot, it will not program
the door won't open after a self-cleaning cycle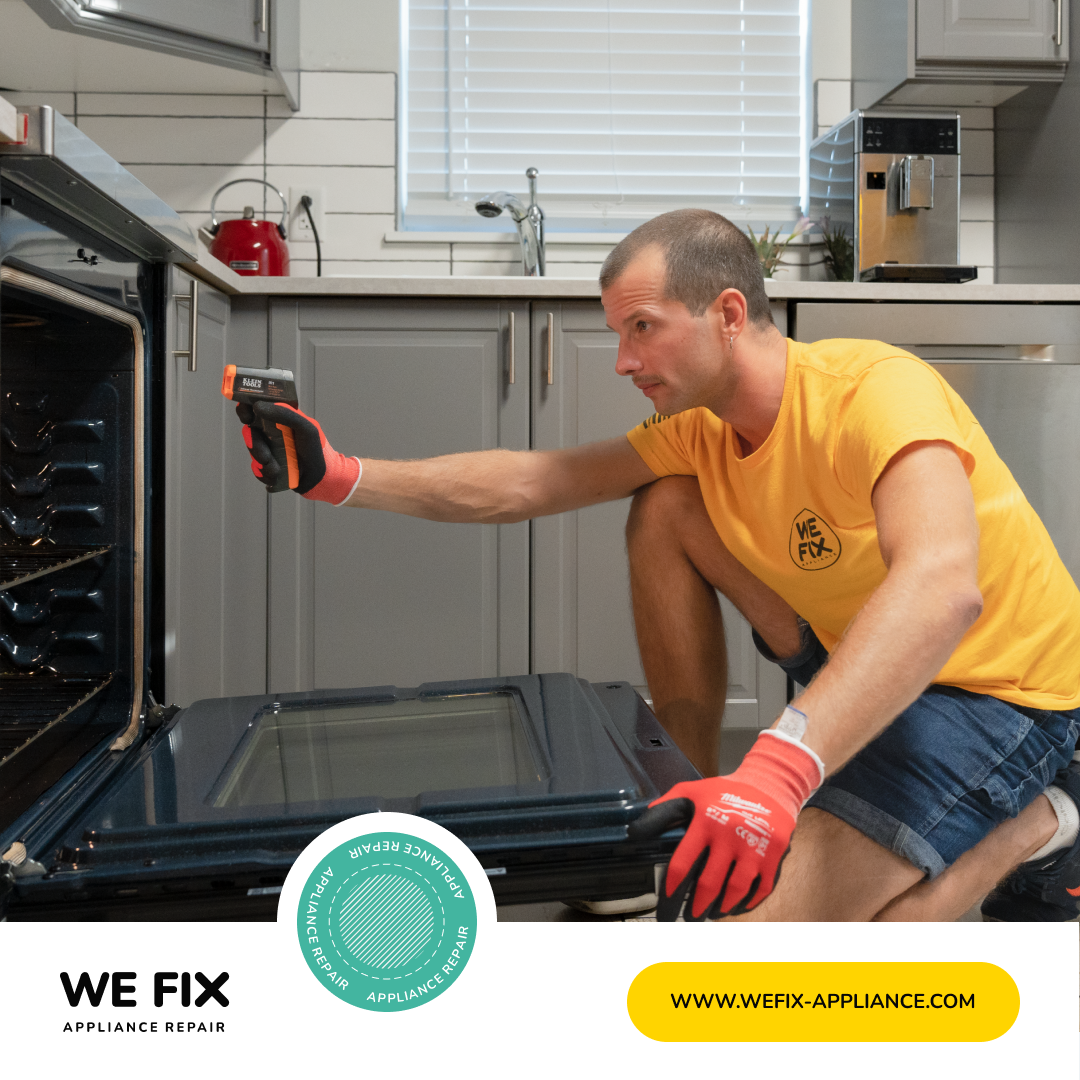 If your oven is experiencing these or any similar issues, it's time to contact We Fix's oven repair experts. Our team of highly trained and qualified technicians will perform a comprehensive diagnosis on your oven to identify the root cause of the issues. Don't hesitate to reach out to us for all your oven repair needs.
Oven Brands We Repair
At We Fix Appliance Repair, we provide comprehensive oven repair services for all major brands of ovens. Our experienced technicians are trained and equipped to handle repair work for a wide range of oven models from various manufacturers.
GE oven repair

Whirlpool oven repair

Wolf oven repair

KitchenAid oven repair

Bosch oven repair

Electrolux oven repair

Viking oven repair

Maytag oven repair

Frigidaire oven repair

& Many More
Affordable Oven Repair Experts
When your oven breaks down, it can be frustrating, especially if you have to prepare meals for your family. Hiring affordable oven repair experts from We Fix Appliance Repair ensures that your oven is repaired promptly, safely, and affordably. Our expert technicians have experience in diagnosing and repairing various oven problems, ensuring that your appliance is back in top shape in no time.
Don't let a faulty oven disrupt your daily routine, contact We Fix Appliance Repair for all your oven repair needs, and enjoy quality services at an affordable price.
Why choose us
FULLY
INSURED
Our team is fully insured, licensed and highly trained to do comprehensive repairs
PROFESSIONAL TEAM
Our team of technicians are fully trained and certified experts in appliance repair
SAME-DAY REPAIR
Our team will make sure to get your appliance fixed as soon as possible
Frequently Asked Questions
What Does Oven Repair Service Include?
Oven repair service is a thorough diagnosis to determine the root cause of a problem, safe troubleshooting, and complete diagnosis of the oven by a highly qualified oven repair technician. This is followed by repairs and parts replacement, which helps the range to operate normally. Proper oven cleaning is done to ensure it's ready for cooking.
What Is The Price Of A Gas Oven Repair?
Oven repair costs vary depending on different issues, including parts replacement, the problem, and labor. Gas oven repairs can cost anywhere between $150 to $600 and average about $300. It costs approximately $100 to replace a fan on the lower end, while the control board replacement costs $600.
Is Repairing The Oven Worth It?
Replacing the oven is worth it since it is much cheaper than replacing it. On average, an electric oven lasts up to 13 years, and a gas oven can last up to fifteen years. As with other appliances, the fifty percent rule is fundamental. It states that if the machine is over 50% of its expected lifespan and costs 50% of its replacement cost to repair, it is not worth replacing. For all electronics, the more it's used, the more it wears out. Replacing the oven should be done if it is older than ten years or if you're unhappy with its performance and feels buying a new model is what can work for you.
How Long Does It Take For The Oven To Be Repaired?
Most oven repair problems take less than an hour to fix. However, factors like the scope of repairs, parts availability, and client coordination also affect the oven repair periods. In most instances, it shouldn't take more than a day to get your oven repaired.
What Causes Some Oven Repairs To Be Expensive?
Oven repairs cost varies depending on different issues. These include; • Parts replacement • Labor requirement • Number of repair issues • Parts availability and price are significant contributors to a costly repair.
What Areas Do You Service For Oven Repair Service?
We offer oven repair services within Pinellas County, Tampa Bay, Orlando, and many more. If you have any questions about oven repair services, contact us.