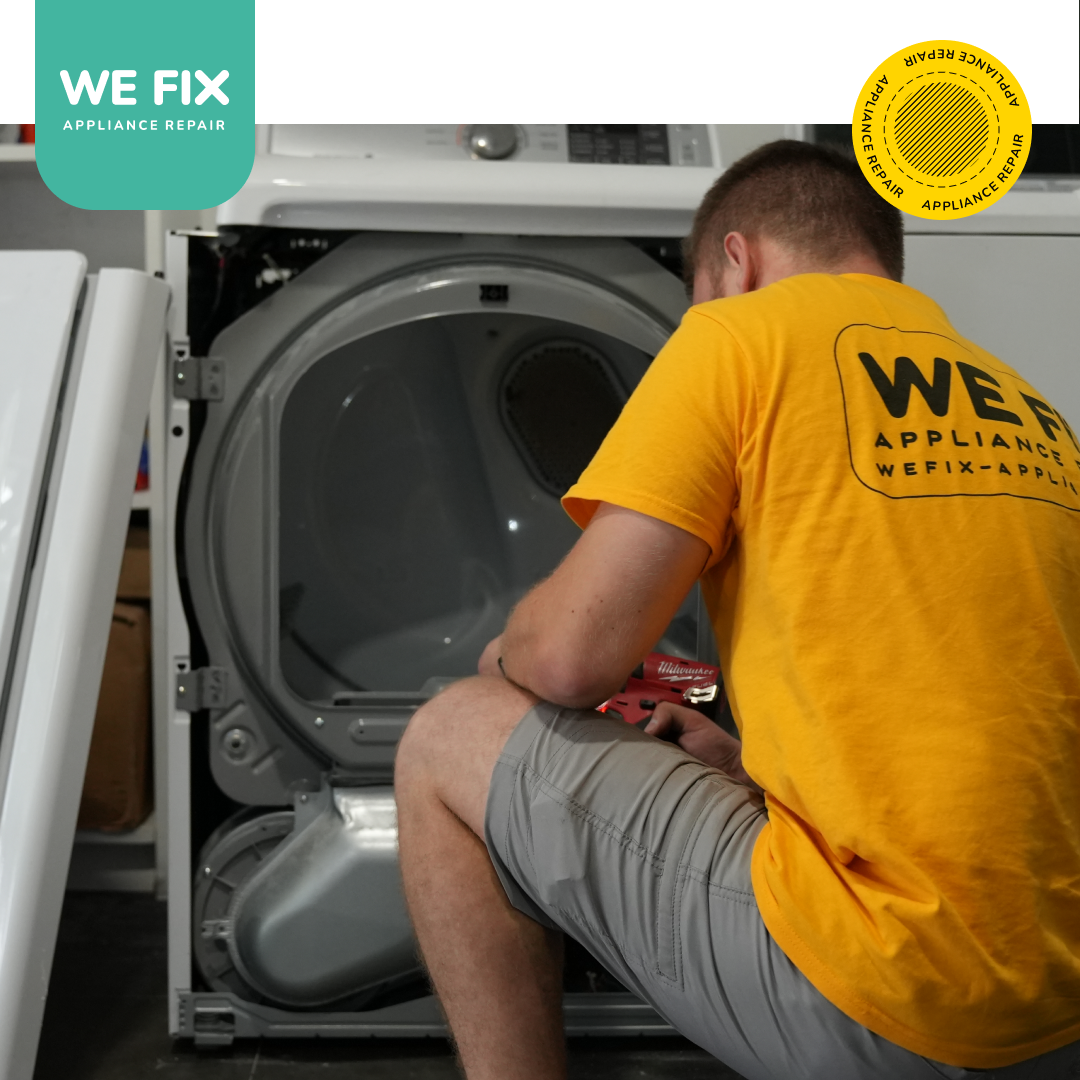 Washing machine repair services have become an essential part of our daily lives, consistently ensuring our clothes are clean and fresh. However, like all machines, they're prone to malfunctions and wear over time.
When your trusty washing machine begins to falter, there's no need to panic. At We Fix Appliance Repair, our expert washing machine repair technicians are here to offer quick fixes and lasting solutions.
In this article, we'll dive into the importance of professional washer machine repair services and why they're your best bet for resolving your appliance woes.
When Do You Need A Washing Machine Repair Service: Warning Signs
Even the most robust washing machines show signs of wear or malfunction. Here's when you should consider calling an expert washing machine repair man:
Unusual Noises: If your machine makes odd sounds, it could point to a potential problem. Our skilled washing machine repair team can diagnose and resolve these issues swiftly, ensuring your washing machine runs quietly and efficiently once again.
Poor Draining: Water remaining after a cycle could indicate a clogged drain or faulty pump. Our washing machine repair technicians will quickly identify the root cause and provide effective solutions, so you can enjoy the convenience of a thoroughly drained laundry load.
Machine Doesn't Start: Electrical issues or defective parts could be the culprits. Washer machine repair experts troubleshoot the problem and restore your appliance's functionality, so you can get back to your laundry routine without any further delays.
Leaking Water: This could be due to faulty hoses or connections.
When you spot these signs, it's essential to turn to professional washer repair services. DIY might seem tempting but could lead to more problems if not done correctly.
The Importance of Opting for Expert Washing Machine Repair
While there might be numerous DIY videos online, nothing matches the expertise of a professional washing machine repair man. Here's why:
Comprehensive Diagnosis. Professional washer repair technicians can provide a thorough assessment of your machine, identifying not only the evident issues but also potential future problems.
Precise Solutions. Trained washing machine repair man uses specific tools and parts to ensure that the fix is not just a quick one but also long-lasting.
Safety Assurance. Mishandling electrical appliances can be hazardous. Experts follow safety protocols to avoid any potential washing machine repair risks.
Warranty Protection. Opting for professional washer machine repair services ensures that your warranty remains intact.
Tips for Maintaining Your Washing Machine's Optimal Performance and Avoiding Washer Repair
Prevention is better than cure. While washer repair services are always available, here are some tips to maintain your machine's health:
Regular Inspection: Periodically check hoses for any signs of wear or leakage to avoid your washer repair.
Clean the Machine: Stay ahead of washing machine repair every few months. Run an empty cycle with a machine cleaner or vinegar to remove any detergent residues or mold.
Avoid Overloading: Always follow the manufacturer's guidelines regarding load sizes.
Your Trusted Washing Machine Repair Service
At We Fix Appliance Repair, we understand the urgency of getting your washing machine back in action. Here's why we stand out:
Prompt Response: We prioritize your convenience and strive to offer same-day or next-day washing machine repair services.
Skilled Technicians: Our washer repair team comprises seasoned washing machine repair men who are familiar with all major brands and models.
Transparent Pricing: No hidden costs or surprise charges for washer machine repair. Our pricing is straightforward and competitive.
Reach Out to Us for Expert Washing Machine Repair Service
At We Fix Appliance Repair we understand the importance of a smoothly running household, and we're here to ensure your appliances are back in working order as quickly as possible. 

So, the next time you find your washing machine acting up, remember: Expert washing machine repair is just a call away! Book your washing machine repair appointment today!